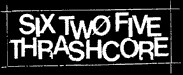 Discography Continued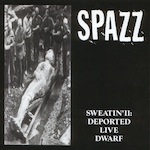 625#51 Spazz - Sweatin' II - Deported Live Dwarf CD
This contains the 1st (and long out of print) Dwarf Jester Rising LP from 1994, the tracks from the split CD with SUBVERSION (only 500 pressed) and an entire live radio show from 1999. 34 studio tracks and a full live set..a full 70 minutes! Way too much SPAZZ, even for the diehard. The reason why we decided to collect this stuff was not only were their rumors about people booting the Dwarf Lp, but we finally called it quits in December 2000. So what better time to start offering the final will and testament of Spazz. Chris will do a 3rd "Sweatin" series which will collect all the splits and comp tracks from the Toast Split onwards (96 forwards-I think)so watch for that.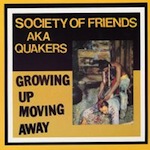 625#52 Society Of Friends - LP
When Spazz played with these guys in Austin I was floored. Their brand of hardcore is relentless while still being original, and their front man August is psycho live. While they have put out countless EPs and Splits, it was about time these maniacs had a full length. I can't really compare them to anybody, but man, do they pack a punch. Imagine speed picking mixed with some MITB style riffings, add straight forward fast HC, and you got SOF.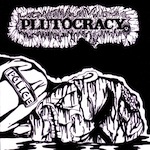 625#53 Plutocracy - Dankstahz CD
This CD collects the long out of print "Dankstahz" Lp, the split Ep with Discordance Axis, a radio show from 1992, the 1990 "Progress" demo and some extra tracks as well. This was originally released on Convoy back in 1994, but since we reformed in 1998, we wanted to have this stuff available again. The main reason why we reformed was because of Big Boy aka Dan Hogan passing away. We met him in high school, when he was playing in 976 (who became our brother band along with Immortal Fate). Since we were having bassist problems, Dan was more than willing to join and he took part in our last couple of projects. Thus this CD and our reformation is in memory of his passing.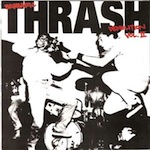 625#54< V/A - Barbaric Thrash Vol II EP
So I was putting together Volume II of the Bandana Thrash comp, and it was right in the midst of when all that shit was hyped. The term was being thrown around like it was a "real" form of music (which its not), and some bands quit doing powerviolence and started doing 'bandana thrash' (whatever that means). So, basically, I wanted the bands on this to speak for themselves. The Bandana Thrash FLexi is awesome, and those bands were really harking back to the mid-80s thrash scenes, but it wasn't a fasion statement, it was out of admiration....and it was also when it was fun, not fashionable. So, anyways, this comp was compiled over a 2 year period. There were some bands that couldnt do it that I asked, and these were the bands that said yes. The bands on this are: DISCARGA (Brazil), ESPERANZA (SoCal), JELLYROLL ROCKHEADS (Japan), LIMPWRIST (US) and LIFES HALT (SoCal). ESPERANZA were the last band to be asked, and they jumped right in the studio and kicked down (what I think to be is...) their best song. Every song on this comp rules..and thats a first for me. Most of the time a band does not come through and gives you some throw away songs....but not this comp. Not only was I surprised that these bands said yes to do the comp, but that it works so well. Plus I stand behind all the bands 100% as people as well. 2500 pressed, 300 on gold, rest black.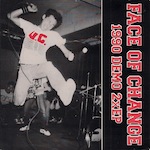 625#55. Face of Change - 2xEP
I had been writing Mitch the bassist for awhile, and we grew to know each other pretty well. But it wasn't until WxHxN went to Sapporo that it really dawned on me how awesome Mitch and FOC was. Sapporo is like the Mid-West of Japan. Isolated, but pumping out awesome bands. Mitch and FOC had been playing in US-style HC bands since 1985...His first band was called FREAKS who play a killer blend of SoCal HC and skate-rock. Then FOC started in 1988, and their first thing was this 1990 demo. The recording is rough, there's tape wrinkles on the vinyl, and the music is formula, but taken in the context of what the Japanese HC scene was like in 1988-1990....FOC was going against the tide and playing what they liked. And they havent stopped since. That's what really inspired me, they just do the style of HC they like...and have been for 13 years. Originally, I had envisioned doing the cover like the UC Demo 2xEPs, but we decided against that since its been done many times before. We also decided against doing a CD of this since we both think vinyl is a lot cooler. 1200 pressed, 200 on red, 1000 black.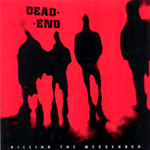 625#56 Dead End - Ep
When OUTLAST broke up, I was super bummed. I thought they were so great. DIY, political, yet playing high energy youth crew with a very raw punk edge. Henrick told me he had a new band and I was excited to hear it. Their demo has a more DC 1982 style too it (FLex Your Head)...once they started playing more they came into their own, and the result is the debut EP from DEAD END. On this they play quick, high energy hardcore but with melody interweaved into it. Im not one for melodic music, but this is fucking brilliant. Reminds me of the first GORILLA BISCUITS Ep. We're talking about doing a full length together which would be awesome. 1500 First press, all on black.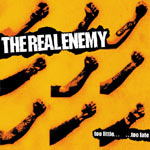 625#57 The Real Enemy - "Too Little, Too Late" Ep
I by chance ended up reviewing their debut EP on Underestimated for MRR and was in awe of it. It was political (more youth crew needs to be), it was raw (not polished like most sxe bands) and it was fast. Fucking great......we ended up playing with them a bunch, both when WHN went out to the midwest and when TRE and HOLDING ON came out here. It was awesome meeting them since ont only were they our age (27-31) but their friendship only made their band even better. In 2001 they decided to call it quits. The songs on this EP were 5 demo songs they were preparing for a full length. Unfortunately they didnt get to it, so we decided to get this out for their last two shows. It was a mega rush to get it out for the deadline, and we made it with only one day to spare. I was lucky enough to be out at the CHICAGO FEST to see their very last show....they were the best I have ever seen em. First Press, 1200 black, 300 orange vinyl.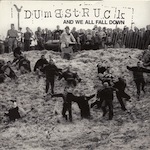 625#58 Dumbstruck - Lp
I was in contact with Graham for awhile...he did their debut EP. I was blown away by their EP, not so much for anything but the fact that it sounded so much like RIPCORD. Well, there's good reason for that, its 3/4 ex-RIPCORD members (which includes HERESY members too....). This LP has more of a Scandanavian feel to it than their debut EP, but it still has the raw, UK thrash sound intermixed in it. 1500 total on vinyl, possible CD version if the band decides they want one in the future.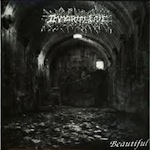 625#59 Immortal Fate - Beautiful LP
This has been in the works for years now. They recorded it in what....93 or 94, and the vinyl has been sitting around since 96 or so. IMMORTAL FATE was the local thrash metal/death metal band when I was in high school, and since PLUTOCRACY members had brothers in the band, we soon became good friends. When bands like PLUTO and EXHUMED started, IMMORTAL FATE was the band we all looked up to. While their earlier stuff was influenced by bands like NUMBSKULL, EPIDEMIC and VIOLENCE, their later stuff was inspired by the emerging grindcore scene of the early 90s. This last recording ends up at the most extreme end of the spectrum for grindcore/death metal. This is completely unpolished, down-tuned grindcore. Just like the title says, fucking "Beautiful"! 1100 pressed, 550 on green, 550 on red. 200 passed out without covers/inserts. 900 with.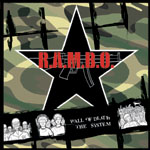 625#60 Rambo - Lp
Tony Pointless is infamous......he booked the Stalag venue in Philly before it got shutdown, and everyone who has met him has remembered him. He is fucking awesome...and totally creative. So he tells me about RAMBO, and I met the other members out at the 2000 Chicago Fest, and they tell me about how they wear full camoflauge, and stage battles at their shows and shit. Sounds like window dressing, right? Wrong....the music kicks fucking ass....pissed hardcore not unlike Sweden's FINAL EXIT or PROJECT X (hell, I even think the first MADBALL EP), and their live shows have become infamous...with their 50+ crowd in full army fatigues and battle scenes. When WxHxN played with them in Philly it was insane, robots, full size tanks and 100 person fight between vikings and riot police (I was a cop). This album is brutal, and shows that they are not just a live-schtick band. RAMBO typifies what I love about hardcore..... great music (with serious lyrics) that is fun! The guys are all super nice and can do nothing but put a smile on your face. 1200 CDs and 1100 vinyl so far. A repress of 500 LPs in Spring 2002.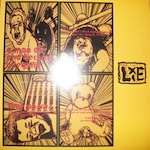 625#61 LIE - LP/CD
A lot of kids in the US or Europe don't know about the scene politics that occur in Japan. There is major stratification among bands, thus there are bands that are "earning" respect, although they might be assholes, while younger bands are getting shunned because they don't don't act a certain way, or don't sound a certain way. Well, LIE is focused on just playing and having fun...nothing else. And that's why I want to support them. They don't give a rats ass about the politics, they just like to play, drink, and hang out with their friends. This LP, while continuing the ballistic thrash that they are known for, has LIE throwing down some rocking Japanese style punk riffs here and there to get the toes tapping. I love it. The CD has comps tracks, split Ep tracks, their "Legalize It" Ep and some live songs. CD 1000 pressed, vinyl is 1100 pressed. No colored vinyl.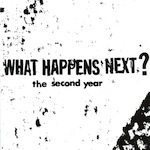 625#62 WHN - Second Year CD
Since the songs on this are on EPs that are ot of print, we thought we would make them readily available soon, so not to have some hard to find material out there. This compiles the "Ahora Mas Que Nunca" Ep on Lengua Armada, the Japanese Tour EP on 625, and the 6" EP on Siz Weeks (entitled "Brutifal Fearing"). I think the Japanese tour EP was the best thing we ever did, so I'm partial to this collection. 2000 Made, possibly more if need be.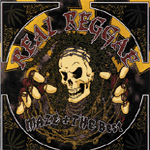 625#63 Real Reggae - Maze plus THC CD
The MAZE CD that REAL REGGAE did on MCR Company is fucking ripping. Great, thick production, awesome songs....just everything that I look for in a good fastcore band. I started talking to Yumikes of MCR and he was saying that REAL REGGAE was looking to release things in the US. I've met them twice before (both times I've been to Osaka, I've played with them) and was totally into helping them out. We started talking about it more, and the end result was a discography up to MAZE. And although in retrospect I would have liked to have done a vinyl version, I think the purpose was acheived....the entire history of REAL REGGAE was made available to places that have not been able to get their stuff. A funny side note is that the tray cards were printed wrong, and they shrink-wrapped the CD as well, so I had to crack open all 1600 of them to replace the tray card. That sucked. Anyways...40+ songs, spanning comps, splits, Eps and their debut full length + full color sticker..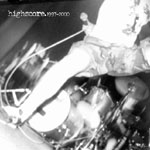 625#64 Highscore - CD
These guys sent me a demo long time ago and I was floored....the demo was super rough, but thats what was so great about it. They played fast youth crew, but with a really raw punk sound and idealism. When they started to put out vinyl, each one got better and better. Their LP was the shit. I talked to them about helping get their stuff over to the US so kids here can check em out, and they had been talking about doing a CD version of the LP. Although I'm not the biggest fan of the CD format, in this case it served its purpose, because we compiled EVERYTHING they had done up to the LP. Bands like HIGHSCORE have rescued youth crew from becoming right-wing, complacant, and out-right boring. Watch for a second LP on 625 early in 2002. 1200 pressed as of 2001.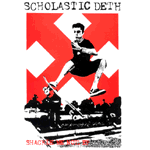 625#65
SCHOLASTIC DETH - Shackle Me Not Ep
This is a band I started to sing for in 2000. They went through a couple singers, and had about 10 songs before I joined. The mentioned they needed a singer, and since they were in the same practice space as WxHxN, SPAZZ, etc, I said I could try it out. It took awhile to get our own style down, we have scrapped alot of songs, but we never expected to be as happy with our first studio recording as we were. We decided to do an EP of a couple months later. I would describe our style as a mix between later HERESY (fast, yet hints of melody) and straight forward HC like CITIZENS ARREST or something. I'm really proud of this EP, and I'm stoked to be in a group with Chris, Josh and B...they are awesome. Its all about fun. 2000 pressed, no limited.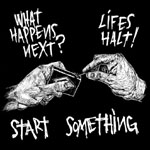 625#66
WHN / Lifes Halt Split Lp/CD
LIFES HALT are probably one of my all time favorite bands......when we firt played together in 1999 we knew right off the bat that there was a bond between WHN and LIFES HALT. We talked about touring together for so long, but we could only do little West Coast tour together.....finally we hammered it out. Summer 2001 was the time set for the tour, and to set things off, we thought we would do a split LP together. The tour was awesome (got to see them 40 nights in a row...not a stinker once) and the LP stands as testimony to that friendship/experience. As I write this we are getting ready to go down and play LIFES HALT's last show (Dec 8th, 2001). Although all of us in WHN understand, I can't help but feel that its an end to one of those legendary moments in punk when the perfect elements of great song writing, sincere members, challenging lyrics, spawn a definitive band....and the era they have defined (for me at least) is coming to an end with their demise.



625#67
Raped Teenagers - Discography CD
Not out yet......but this Swedish band ruled......really original puck/HC, but done at such ligthening speed. For some reason, they haven't gotten the respect that I think they deserve by citing them as an influence, etc.For those who are unfamiliar with RT, wait till you here this. Its crazed fastcore but with melody, singing, off-time changes, etc.....kinda reminds me of a more melodic G-ANX. This CD contains demos, vinyl, live, etc....the works.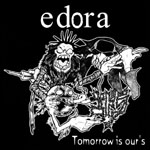 625#68
Edora - Tomorrow is Ours Ep
I got a bunch of tapes from my friend Jali from Singapore...and he threw in his new band's demo as well. When I put it on, it blew me away...I couldn't believe how fast and energetic the band was. I asked em if they wanted to do something since most kids in the US/Europe/Japan would be getting their demo and they said yes! I am super stoked on this, and I hope I get to work with them some more. And from what I hear, there are other labels interested in EDORA. There is a great scene in SE Asia, whether its in Malaysia, Singapore, Indonesia, the Philippines...whereever, there is such an incredible amount of good bands from all various styles of punk...I hope that more people take the time to notice and explore that scene.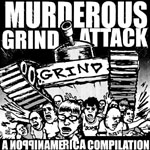 625#69
Murderous Grind Comp CD
The idea for this comp began when I was writing BATHTUB SHITTER...they sent me an awesome sample of some of their newer songs, and I got to thinking about how I haven't really done a grindcore release in a long time. So I wanted to do an international grindcore comp that featured specific areas...kinda like teaming up two areas and their representative grind bands. I tried to have a balance between mainly new bands, with a mix of a few better known bands....and before I knew it, I have over 60 minutes worth of material! All the bands kicked down some top notch songs...so Im super stoked on this. Only thing I would change was if it could fit on vinyl....but I will do that for the second version.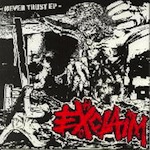 625#70
Jellyroll Rockheads / Exclaim Split EP
This is my dream record....I love both bands...and since both were touring here in October 2001, we talked about doing a split release to sell on the tour. EXCLAIM recorded their stuff super raw, almost like the DISCLOSE recording style.....great. Their songs fly by in a wail of cymbals and guitar solos. Then you flip it over and the JELLYROLLers play some catchy, tamborine shaking punk rock that sounds like 60s garage punk. Its awesome cuz its two very different styles that work well together. Plus the tour was awesome.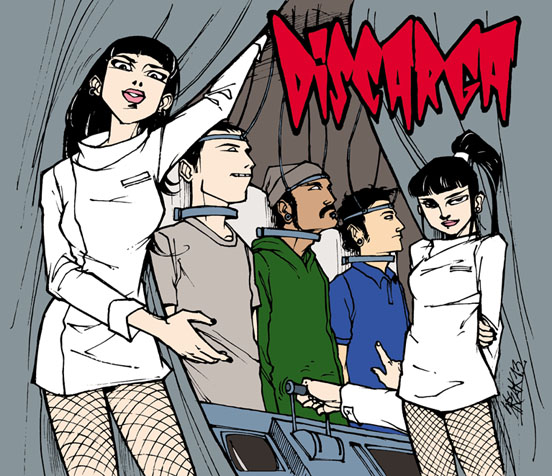 625#71
Discarga - Lp/Cd
Man....writing these things I just feel like I'm so damn lucky to be working with so many cool bands. The way I heard DISCARGA was they wrote to me ordering some WHN stuff....they happened to include a demo, and when I heard it, I told em, forget WHN, what's up with DISCARGA! Everything they have done has just blown me away, and they are getting even better with time. They sound like a rawer MAN LIFTING BANNER, or a later LARM. Political lyrics, super high energy thrash....awesome members. Now this full length is actually a collection of tracks.......since most of their stuff is on hard to find comps from Brazil, or just on demo tapes, we decided to make their first full length out of all their recorded material. On the LP, you have ALL comp tracks, 5 new songs and their demo. The CD is different, it is missing one block of comp tracks that are waiting to come out on a Brazilian release, the 5 new songs, the demo AND the 625 EP. So to try to make it easy to understand, the CD is missing 5 comp tracks, the LP is missing the 625 EP. Now lets see if we can't get them up here for some shows!



625#72
Iron Lung - EP
Jon and Jenson have been friends for a long time....they have been so involved in bands, setting up shows, labels, just generally working their butts off that its hard not to see them all the time since they are doing so much. So when they joined forces to do KRILIZEC, which turned into IRON LUNG.....I could only expect the best. They play super fast hc that pulls no punches.....plus they do covers of APT. 213 and CROSSED OUT, so you know where they are coming from musically. Their live shows rule...and they have a ton of releases/tours planned, so check em out.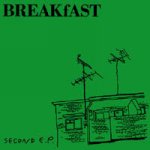 625#73
Breakfast - Second EP
Literally, this is titled "Second Ep".....super chaotic thrash from Tokyo Japan that is influenced by skating and SST. Plus their skate references arent fashion (like it is for some bands) but they really skate...I've had the chance to skate with them two different occasions in SF...I'm hoping next time I go back to Japan we get to hit some secret street spots. This EP was recorded much in the same way as the new EXCLAIM stuff.....super raw and distorted....just the way I love it. 6 songs total, and keep your eyes on these guys....we're talking about more projects and some shows possibly in the US. 1200 pressed, 200 on green vinyl.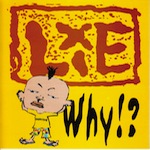 625#74
LIE - Why? Tour EP
So LIE showed up at the end of December 2001 for a small West Coast tour, and it was so much fun for me to hang out with em. Like I was saying in their LP description above, LIE are very down to earth and fun, thus they really felt at home in the US where all the kids would come up to them and talk, or exchange gifts, or smoke weed with them. We had a blast driving around california (in my parent's borrowed car of all vehicles..) and although we only spoke in very broken english/japanese, we formed a strong bond. And my respect/friendship with them only makes me want to support them even more, so keep your eye out for some future projects on 625. This EP contains 4 new thrash songs, marking a return to the style they played on their debut EP. Super fast, straight forward thrash, no fluff. 1900 Pressed, no colored vinyl.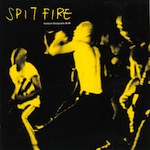 625#75
Spitfire - Discography CD
Still in the works. But here is the story....On the WHN tour we went up to Sapporo, where most Tokyo/Osaka bands don't even tour, and while we were up there, I got to hang out with Mitch from FACE OF CHANGE. He took the time to explain about the Sapporo punk scene, how it had been around for so long, but much like the Southern punk bands in the US scene, was often over looked. No record labels released Sapporo bands, no big-named Japanese bands went up there to tour, etc. But in the mid-80s, all these bands started playing, and they took their influenced from all different sources, European, American, Japanese, etc. Bands like FREAKS (pre-F.O.C) and SPITFIRE were playing music that was inspired by the American HC scene, which made them the black sheep of Japan even more. Mitch put on this old video of SPITEFIRE playing, and it was amazing. Kids were going nuts, they were super energetic, their friends were up on stage having a blast...I couldn't believe that I had never heard of this band. Thus I got the idea to try to get some old Sapporo HC out there, so what was done back then on tapes, is documented and not forgotten. This release is my personal favorite, I still get shivers watching the videos. This compiles the 5 song demo (straight from the tape.....), some live tracks and two live shows from 1988. This is 14 years over due in my opinion....It was hard to get all the stuff together, and to find the members that are spread all over Japan, but it was well worth it in my opinion.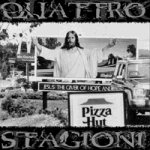 625#76
Quattro Stagione - EP
In mid-2001 I became a re-born grindcore fanatic. I say reborn because I my early years in HC were spent obsessing over fast bands and crossover. Go check out the contact page and you'll see what I mean. But anyway, I loved grindcore. That's all I listened to for so long...and last year, although I never hated grindcore or anything, I was very interested in listening to more traditional forms of punk/hc. And then something snapped....I wanted to hear the extreme stuff again, and that's when Germany's QUATTRO STAGIONE started writing me. It was perfect....their tracks ruled, good politics, and I loved it. So we got to talking about releasing their stuff. This is super fast grindcore/fastcore....at times I think the drummer is on crack. 1000 first press.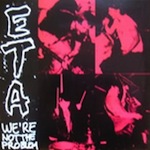 625#77
ExTxA - We're not the problem + The racket CD
This compiles the (sold out) Racket EP, comp tracks and their (sold out) first LP. I was writing to Otto right after they released their demo, and the result was them appearing on the first Barbaric Thrash comp. Their earlier stuff was just good old raw Swedish punk. I loved it alot....later they started being influenced from early US HC, which you can hear on the "Problem" Lp. When we first started talking about getting their stuff over to the US, I was hoping to do some vinyl projects....but this was also at the time that they had a ton of releases coming out from different American labels. PFC mentioned that they wanted to do a CD version, so we got to work on that. I liked being in volved in this one since I really like their earlier style. 1200 pressed, 600 to 625, 600 to PFC.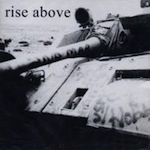 625#78
Rise Above 3" CD
Been writing to them for awhile now.....their earlier recordings were more death metal influenced and had cleans recordings, but later on they went full-on rough grindcore.....I asked em to do a full length after I checked out a few of their split EPs. If you like raw grind like FEAR OF GOD, you'll dig this CD. At first I wanted to do it on vinyl, but they expressed their desire to do it on CD, so I wanted to have alittle fun and do it on a 3".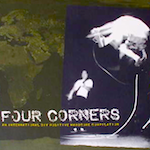 625#79
V/A Four Corners Comp
Nightmare compilation......the reason I say that is it has taken for ever (Im writing this and its still in the works). The bands on it rule, the songs they submitted are excellent, everything about it is great, except for the fact that is has taken forever. I wanted to do an international youth crew comp that featured DIY, political bands......I felt (and feel) that youth crew and SXE have become such a lame, reactionary, polished form of music...and that most retro 88 bands are missing that political, DIY, punk spirit that made youth crew such a great scene. I started on this project way back when.....and while it was being put together, a ton of great releases with the same concept came out (I recomend checking out the Commitment boxset comp.) This comp LP features mulitiple songs from LIFES HALT (US), DEAD END (Sweden), HIGHSCORE (Germany), POINT OF FEW (Holland) and ZAGLOG RA (Croatia). All of it is fast, pissed off and sincere youth crew.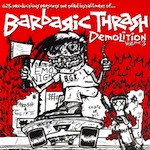 625#80
V/A Barbaric Thrash Vol III 2xCD+EP
Not necessarily a nightmare comp although it took forever. This is a collection of new (and not-so-new) thrash bands from all over the world....34 bands to be exact. This comp series is born out of my love for collecting demos, and I wanted to get some exposure for all these great bands that I was hearing. My plan is to have a new volume of this series come out every 6 months or so, featuring bands that I have heard within that time frame. Plus, to round-out the conecpt behind the comp, I am now including a demo from an old band on each one....to drive home the importance of demos, and how great they can be (some of the best songs a band writes is on their demo). This volume will have an ASOCIAL demo that is fucking nuts...like LARM meets PROTES BENGT. That's shitload of stuff in one package.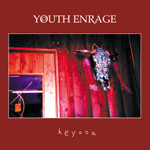 625#81
Youth Enrage - Heyoca CD
This band always floors me. Their first two outings (EP and CD, both pressed in Japan) that were released on the LP that 625 did are amazing.....some of the best fastcore that I have heard. Crazy time changes, blazing drums, crazed vocals....these new 10 songs continue where those left off, while adding some new elements. At times, YOUTH ENRAGE use chords reminiscent of BORN AGAINST on this new recording, while still keeping the pace at 1000mph. Plus there are two live videos on this enhanced CD. (1200 pressed)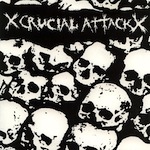 625#82
Crucial Attack - Ep
CXA had been playing alot between the Bay Area and Reno scenes...so I got the chance to see em a bunch. They got better and better with every show, and although I held off from asking them for alittle while, I finally asked em when they opened for JELLYROLL ROCKHEADS and EXCLAIM in Reno. In a months time they had a recording done that far exceeded my expectations. Super raw-straight-edge-punk. Thats the best way to describe em.....political, angry, punk, and straight edge. Something that is most definitely missing from the current scene, and the reason why I wanted to work with them so much. Great guys, good music. 1200 pressed, 50 w/special band covers.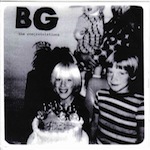 625#83
BG - The Celebration Ep
When the WHN/LIFES HALT tour went through Ft. Smith, we got to play with BG and I (and everyone with us) were fucking blown away. It was insane, cuz for me, here we were in Ft. Smith of all places, playing a Country Western Bar, and the opening band is just phenomenal. They had been playing for awhile, and they featured members from bands that we had known before (RASH OF BEATINGS and BURNED UP BLED DRY). So after they took us home and made us a huge batch of vegan chili, we got to talking about the possibility of releasing something. They had been trying for awhile, so I said fuck an A, you guys are nice, ripping and you deserve the support. We rushed to get this EP out before their US tour, so the recording is a little lacking, and the cover is damn funny yet minimal.....so there was only 500 pressed initiallyof this. I want to do something with them again, I think a full recording will bring out their amazing ability to write and execute songs. Think early RORSCHACH....super metal, but still punk. (1000 pressed total)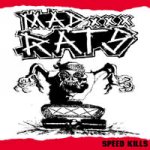 625#84
Mad Rats - Speed Kills Ep
I have been writing Nuno for a few years now, and while we were originally trading TIME X stuff, he was telling me about a new project he had going called THE FIENDS. He sent their first recording and it was smoking fast hardcore. We talked about possibly releasing something, and after a few months, agreed on releasing that original tape. They changed one member and decided to change the name as well, to MAD RATS. On a side note, in Brazil, the fake old-school Vans are called MAD RATS (our Brazilian friends pronounce it "mad hats"), so I'm suspecting that this has something to do with their name choice.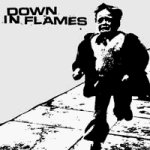 625#85
Down in Flames - LP/CD
John has been writing to me before they released anything, and while the first tape (later released as the first EP) was more in the youth crew vein, their second recording fucking floored me. This was later to become the EP on Gloom and the split with GATECRASHERS. The speed in which the songs flew by, and the constant time changes really made me take note, and we started talking about doing something. Before their 2nd EP was released we already agreed on doing a full length....at first I was thinking, maybe it was a rash decision to agree to a full length from such a new band, but that tape they sent to me was fucking brilliant. Their later recordings, and the live shows that I saw just reinforced my commitment to the project. Meeting them just made me want to stand behind the project even more. We were lucky enough to bring them out here in the Spring of 2002, and SCHOLASTIC DETH went on the road with them. They fucking floored me everynight. The best show was watching them play their entire LP non-stop, in a cold, dark basement in Reno Nevada in front of about 20 kids. 1100 LPs pressed(200 with West Coast Tour Covers) and 1200 CDs.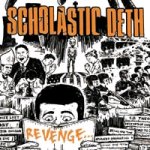 625#86
Scholastic Deth - Revenge of the Nerds EP
Our third recording....the first one with Bart at House of Faith. We were hoping to get this out in time for the DOWN IN FLAMES/SCHOLASTIC west coast tour in 2002......and did it by a few days. We got down to Goleta early and spent a few hours in the parking lot outside of EBULLITION stuffing them. Like I have metioned before, SCHOLASTIC is super fun for me to play in since I really love working with the rest of the dudes.....all of us our nerds in our own way, B being the crazy philosopher, Chris being math guru and mad biker, Josh being a literary nerd and design wiz, and me being the stressed out-doing-way-too-many-things-at-one-time-all-I-want- to-do-is-read guy. Recording, playing shows, writing songs, hanging out...is always fun with the dudes.(2000 pressed, all on black)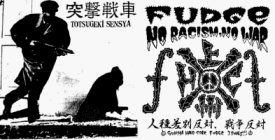 625#87 Fudge / Totsugeki Sensya split EP
Gunma City hardcore fighters! My friend Mamada from SHIKABANE is always telling me about these bands from a small town outside of Tokyo called GUNMA CITY. By chance I got into contact with a member of TOTSUGEKI SENSYA and got their demo and it fucking floored me. I couldn't believe that they had been around for a few years without some kind of output. Mamada then told me about FUDGE and we started playing around with the idea of doing a GUNMA CITY comp of some type. This is the product. While FUDGE play a more traditional style of Japanese metallic hardcore (guitar solos, shouted choruses, etc), TOTSUGEKI SENSYA play a mix between CONFUSE and BASTARD. Putting Gunma on the map! (1000 pressed, all on black)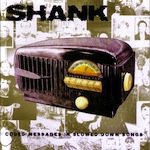 625#88
Shank LP/CD
This has been on Slap A Ham's plate for a year, and since Chris decided to stop the label, me and Deep Six will go in on getting this scorcher out. Its fucking amazing, I hadn't even heard the LP when I told Chris I would be into doing this because not only did I have SHANK's earlier releases to go off of, but knowing them as people just made me want to stand behind them 110%. When I got the master I was floored...by far the best shit they have ever done. Super fast powerviolence...with thick guitar sounds, crazed vocals and a drummer than has obviously been listening to his death metal. I'm fucking stoked.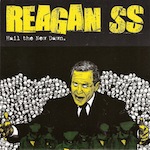 625#89
Reagan SS EP
When my long time friend Matt told me he was in a band I flipped. I have known Matt for a long time now, so I was excited to hear this project. When he sent me a demo CDR (what turned out to be the JBA split EP) I couldn't believe how good it was. Hectic hardcore punk like old DC or LA style. We set-up a few shows together and REAGAN SS floored me everytime. We talked from the get-go about doing something, and it's projects like this that makes 625 worthwhile for me. I get to release records from my friend's bands...and we get to work on a project together. 8 songs in all.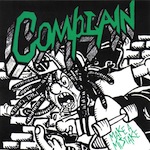 625#90
Complain - Debut EP
COMPLAIN opened when WHN played in Sapporo and they fucking ruled. They were young, talked about their songs and played fast thrash with a good crossover influence. I asked them if they would want to take part in a comp or something. When I got their submission it far exceeded any expectations that I had. I told em that it should be an EP, to stand on its own....they said, well if that's the case, let us go back and record more songs. The end result of this exchange is their debut EP. They are awesome, and from what I understand, they have plans to do a full length on Straight Up down the road.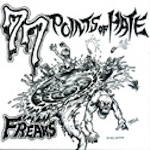 625#91
Freaks - Ep
Toshio from Mangrove had talked to me before about releasing something from his friend's band FREAKS. He released a mini-CD from them a few years ago and its ripping. They wanted to get out something in the states and since I really dug their MCD, and also liked working with Toshio I agreed. The tunes they sent far exceeded my expectations.....super thick guitar, distorted laden thrash that reminds me off the early ASSFORT stuff. Cover art is ripping as well.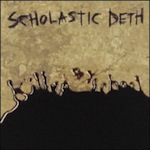 625#92
Scholastic Deth - Killed By School EP
The last recording....we sat down for a few months and wrote all these songs and shit, and we went to the studio thinking we had a good, 13-15 minutes of material. In true SCHOLASTIC fashion, our 12 songs turned out to be under 10 minutes. So at the studio we figured, fuck it, lets put out one last EP. This recording is probably the one we like the most, our earlier recordings have certain defects that we didnt like, but we all walked away happy with this one. We're trying to get this out by the time of our last shows (June/July 2002) so we'll see if we can do it. (2000 pressed, all on black)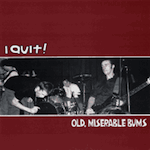 625#93
I Quit! - Ep
Ove and I have been writing for a little while by the time he sent me the advance for the EP that came out on Busted Head. They recorded soon after that and was looking for someone to release it...when I got it, I thought it was great. Raging fast, yet very original thrash..reminded me of a mix between early DIE KRUEZEN and RAPED TEENAGERS. I really dug what Ove and I QUIT! were doing, so I offered to release their second EP. They keep getting better with time, so hopefully down the road you will see more I QUIT! records out on 625.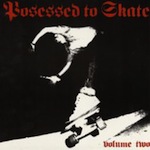 625#94
Possessed to Skate Vol II
The first version came out years ago...that one was fun to do for sure. But it never really dawned on me to do a second version until one day I was skating with Chris and Josh at Alameda park and thought about talking to those bands that I know skate, or who I have skated with. The LIFE SET STRUGGLE guys were the first to come to mind....when I first saw their shirts with the old Life Skateboard logo on it, I thought to myself, "this band really knows whats up".....BREAKFAST came to mind for two reasons...one was I was down at "new spot" in SF in 2000 and I saw all a group of Japanese kids came up and started filming...well one of the filmers was wearing a Capitalist Casualties/Slight Slappers Tour t-shirt. We looked at each other and realized we knew each other.....When Exclaim was here, I took their singer Sakai (who also is the guitarist of BREAKFAST) out skating...we also met up with the singer of BREAKFAST who happened to be in town at the same time. SCHOLASTIC was included because Josh, Chris and I have been skating together for the past 3 years.....mainly hitting parks after work or going super early in the morning to Alameda....and ExTxA was included after I was talking to Christopher about the other members skating......The whole idea behind this comp is to include bands that have members who skate...I know right now it's somewhat fashionable to be "skate-thrash" or something to those effects....but I wanted to include bands who's members would be skating no matter what. After I got all the masters from the bands and listened to em, I knew this was going to be one-hell-of a comp. Im stoked! And I might try to keep this a regular comp series...who knows.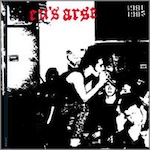 625#95
Eu's Arse LP
EU'S ARSE was one of the early breed of frantic and raw punk bands coming out of Italy in the early 80s. I was turned on to them when one of my friends (reknowned for his int'l tape collection) dubbed me what he had from them back in high school. I was blown away...In the late 90s there was a bootleg comp CD that came out with old Italian HC singles, bands like PEGGIO PUNKS, IMPACT, etc were included...and for the first time, the EU'S ARSE stuff was heard by a whole new generation. I was lucky enough to be brought into this project by Mila from Agipunk in Italy, who brought up the idea of doing it as a split label release in order for the material to be available in the US as well. I will only be getting 500 copies (of the first press at least) but I'm really glad that this is happening. This also flies in the face of what has become really common these days, labels doing bootlegs without putting in the footwork to find the members. This is a 100% legitimate release, with full participation of the band.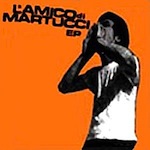 625#96
L'Amico Di Martucci EP
Yet another Mila/Agipunk co-release. I got a split EP from these guys, and while I was suspecting raw grind or power violence, what it turned to be was high energy fast hardcore punk that floored me. They recorded some new songs and split them up for various releases (one of which will be an EP on Thought Crime out of Germany) and some of them became the songs we used for this Ep. When I heard these songs for the first time I thought to myself "an Italian Lifes Halt"...don't know if that's an accurate interpretation, but their approach is very similar.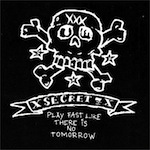 625#97
Secret 7 EP
Ultra-fast HC from Singapore...I got turned onto them after Jali from EDORA told em to send me something. When I got their demo I asked them right there if they wanted to do something. They wrote back saying that some of the members had to go fulfill their required military service soon, but that they will try to record some new stuff....this is the end result. 11 songs on 1 side of an EP!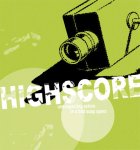 625#98
Highscore 2nd Lp
I think this is the first lavender cover on 625! ha ha ha.....ripping political HC from Germany. This LP has a stronger recording than the first LP...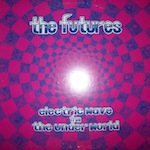 625#99
The Futures Lp
This band is nuts....featuring IKD from JELLYROLL ROCKHEADS.....think of a more garage punk verion of Jellyroll on acid. Their singer (who is also IKD's brother) draws all their artwork, and from what I understand, their lyrics are just as bizarre (without english translations its hard to follow). Their first 2 Eps are mega-hard to find, so I have been talking to them about getting something out in the states since only a handful of people know about them. This LP is fucking majestic...starts with a weird, rocky intro and then bursts into frantic punk rock....awesome.



Page 3 of Discography