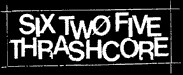 News

Updated Almost Every Week - Check the other sections as well for up-dates on tours, new releases, discography info, etc.

**BE AWARE THAT I MOVE CONSTANTLY, PLEASE CHECK THE CONTACT PAGE FOR UPDATED CONTACT INFO

IF YOU WANT TO RECEIVE 625 EMAIL NEWS/UPDATES/ETC, ENTER YOUR EMAIL ADDRESS (eg. poop@pooper.com) HERE!






Updated 5/20/2014
It has been a while since I last updated the website, but I have two new releases out now and a few more planned for the summer. Not only is the MANHUNT/INTERNAL ROT Split EP out, but the debut LP from INTERNAL ROT was just released in time for their US Tour! Check out the new releases page for more information

Up next will be the second LP of the mind-melting one-man grind unit PSUDOKU. This newest one is straight up astral-grind.

Updated 10/10/2013
Tokyo thrashers FLIPOUT AA are coming to the West Coast this month and touring with CONQUEST FOR DEATH! Tour dates are on the tour page, and two new FLIPOUT AxAx EPs are out on 625 in time for tour!

In addition to these two new FLIPOUT AxAx EPs, 625 has been keeping busy: the one-sided COMPLETED EXPOSITION LP was released last month (and its selling fast!), and before that we had the new AGENTS OF ABHORRENCE LP! Check out the New Releases page for more information!

Updated 9/1/2013
Hi everyone - the new 1-sided COMPLETED EXPOSITION LP is out now! This is a limited one-time pressing of 500 so don't sleep! Also this month, we will have two new FLIPOUT AA Eps in time for their tour in October. The first EP is a limited repress of their "Flipout Songs" CD on vinyl (limited to 300) and a brand new EP called "Non-Fiction" (limited to 500). If you live on the West Coast, be sure to check out CONQUEST FOR DEATH and FLIP OUT AA on tour this October! Tour dates will be up soon!

Updated 8/1/2013
Tour dates for the COMPLETED EXPOSITION (Jpn) and REPLICA West Coast tour are on the tour page now. And watch for the upcoming one-sided LP by COMPLETED EXPOSITION on 625!

Updated 7/10/2013
Lot's of shit happening here at 625 HQ! The new AGENTS OF ABHORRENCE LP is out NOW! This is limited to 500 copies so act fast - lightening fast, brutal grindcore from Australia.

Two bands from Japan are coming to the US for tours in late summer/early fall, and 625 will be releasing records in support of both!

First up we have the insane powerviolence trio from Osaka, COMPLETED EXPOSITION, who will be touring the West Coast with REPLICA and the East Coast with ASSHOLE PARADE. Not to be missed! In support of this tour 625 will be releasing a limited one-sided LP of all new original material! So don't sleep!

Next up we have Tokyo thrashers FLIPOUT AA coming in October for a West Coast tour with CONQUEST FOR DEATH! In preparation for their visit, 625 will be releasing a very limited tour-only EP version of their first CD, as well as a new EP of all new songs.

And it continues! LA grinders BLOODY PHOENIX just emerged out of the studio with their third LP! THis is being mastered right now so we are hoping to have this released in late August! Super excited!

In other words, keep checking the website for the newest updates about tours, releases, etc! As always, be sure to support the bands when they come through, and thank you again for your continued support of 625.

\ Updated 5/20/2013
PUNCH and HOLY west coast tour dates up on the tour page now!

Updated 3/5/2013
SPAZZ Dwarf Jester Reissue LPs are selling like hot-cakes, which means that I can recuperate my expenses and put them into a few new releases - this includes new vinly LPs from AGENTS OF ABHORRANCE, BLOODY PHOENIX and the long-overdue LP from Australian grinders ROSKOPP (r.i.p.). Be sure to check back for upcoming news!

IRON LUNG is hitting the road - full tour dates are up on the Tour Page now! Be sure to go and support them - one of the best, honest and hardworking fastcore bands, EVER!

Updated 2/15/2013
It has been a long time since I posted! As many of you know, I started teaching as a professor a few years back and the amount of time that I need to dedicate to that has taken me away from managing the website, the label, or even going to shows!

However, 625 has a new release - the reissue of SPAZZ's debut LP from 1994 - "Dwarf Jester Rising"!!!! We pressed 1500 on 3 different colors (blue, green and clear - 500 each). EBULLITION will have this on sale on Monday and should be getting to stores/mailorders in the coming weeks.

After this we have some stuff coming up from COMPLETED EXPOSITION, FLIP OUT AA, BLOODY PHOENIX and hopefully by the end of the year, SCHOLASTIC DETH. Don't sleep!

Updated 7/20/2012
Just posted dates for the MELLOW HARSHER summer tour on the tour page. Watch out for the limited DEMO EP out on 625 by the end of the summer. These guys fucking kill - be sure to go and support them if they are coming through your town!

Updated 7/8/2012
Holy shit its been a long time since I last updated the website. Since the last update we had the SPAZZ LA REVANCHA LP reissue come out, and a ton more stuff planned. But my new job has been kicking my ass so website updates and emails have suffered (and unfortunately will continue to suffer).

A lot of stuff has gone down this past year - not only did I move to a small town in Vermont to start teaching at a college, but a very dear friend of mine passed away unexpectedly this year - Kindred McCune - also known as STINKWEED. As you probably noticed, I switched out the graphic on the main 625 page in memory of Kindred.

I first met him when he asked me to join his punk band PLUTOCRACY back in 1987 or 1988 - and through that experience, he became one of the biggest influences in my life. For those of you who know him, you know. For those of you who knew of him from afar, he seemed like a crazy guy, bursting with energy, almost uncontrollable. He was probably one of the most creative people I have ever met - his was a pure spirit of creativity, not to replicate a certain genre of music, fashion or artistic style, but just this individual core of creativity that made him so unique. When he was able to focus his creativity, he produced some of the most wicked music - writing stuff for PLUTOCRACY, AGENTS OF SATAN, NO LESS, TORTURE UNIT, as well as being the inspiration behind a number of hip-hop collaborations like SHEDWELLAZ, etc. You have no idea how many cassettes exist of Stinkweed dropping lyrics on the fly, or writing riffs in a practice room at 2am. The guy lived music.

Here is an obituary written for MRR by Dan Lactose, who worked with Kindred on a number of projects:

"Kindred McCune aka Stinkweed Malone has left our planet. Took the warp triple six Doom Ryde straight through our galaxy. Stinkweed was best known to punx, thrashers, vandals and dank smokers as a founding member of the pioneering Redwood City, CA political grindcore unit, Plutocracy. He was also a founding member and leader of the long running Redwood City hip hop group Shed Dwellaz. Stinkweed was born in San Francisco and grew up on Army Street. He told me he first witnessed punk rock at the legendary Farm. Bands were playing, punks were thrashing and he was breakdancing. "I won't conform to the norm so I perform in the orange," he wrote. Plutocracy took grindcore in directions no one else had attempted, blending Black Panther speeches with blast beats and MC Pooh. It took a certain type of person to "get" it. Kindred and Thomas' twin guitars had a unique and abstract sound.
At the time, I lived in Redwood City, was in a crappy punk band, made zines and bounght Earache records at Tower. I met Thomas at school, he tells me he plays in a band called Plutocracy, gives me the Progress demo and I'm blown away. I became a huge fan of everything these guys did from that point forward. When Plutocracy broke up, No Le$$ twisted wigs back even further! Electric Jungle Violence slid Sabbath style jams into grind riffs while obscure samples popped in and out. The live shows were drunken and dangerous. Stinkweed started the West Bay Koalition and dubbed himself El Presidente. He was constantly creating. He was in so many bands: Agents of Satan, Go Like This, Kalmex & The Riff Merchants, Bullshit Excuse, Shadow People, Apeshit, United Sicko Foundation, Torture Unit, the list goes on.
There was a six hour radio show on KZSU called the West Bay Radio Station Hostage Situation in which he was in every band. I was honored to be a part of the Shed Dwellaz with him. I told him I could DJ and he got me a sampler so I could make beats. Together we recorded hundreds of songs on 4-track. I learned so much about how to create music both from him and with him. He taught me to be myself and not worry about what others would think. If you liked what you were doing, then do it. He hated "kritiks." And COPS. Fuck, he hated cops.
From the way he strung his guitar strings backwards to his shower cap and pajama stage attire, Stinkweed did it his way. He didn't have a computer or go on message boards or give a shit about what anyone else thought was cool, he was on his own trip. Whether he was writing a riff or a sixteen or texting bandmates to schedule a jam, his mind was constantly on music. The guy was the most original person I've ever met in my life. Larger than life, LOUDER than life. If you ever hung out with him, you walked away with a story. Right before his death he was working on new material with Agents of Satan. He was recording raps and talking about starting a new West Bay Doom Ryderz band. He planned to release a compilation next year and was trying to compile all of the tracks for it. He was working with Pelon from Immortal Fate on the release of a 1992 live session of Plutocracy and Immortal fate on KZSU. The world will be a lot different without his demonic harmonics. Launch a hog leg and puff tuff for Mr. Stinkweed.

Donations on behalf of Kindred McCune can be made to: Redwood City Education Foundation, PO Box 3046, Redwood City, CA 94064. RCEF provides music education to all students in Redwood City - grades 2 to 8"

Up next is a very limited 5" EP from SUFFERING MIND. There will be very few copies available from 625, and only 500 total pressed. Following that, the SPAZZ "DWARF JESTER RISING" LP reissue (our first LP) is being laid out and mastered right now, I am hoping to get that into production at the end of the summer. From there we have a number of other projects in the works, stuff by AGENTS OF ABHORRENCE, INTERNAL ROT and possibly a SCHOLASTIC DETH vinyl reissue. Don't sleep!

Ok, if you send me an email, please be patient. I am currently residing in Tokyo and won't be back to the US until September (only to start yet another busy semester of teaching).

< Updated 9/2/2011
The new 7-song PUNCH EP "Nothing Lasts" goes on sale this Monday! Only 2000 pressed and distributed by three labels - this will surely go out of print soon. Don't sleep!

Updated 8/25/2011
Hey all - so I moved to Middlebury Vermont and am gearing up for the Fall releases - including two SPAZZ Reissues - both LA REVANCHA and DWARF JESTER RISING LPs on vinyl! La Revancha is in production now and we are laying out Dwarf Jester Rising. Don't be fooled by cheap, German bootleg imitations!

the GET DESTROYED EP is out now, as well as the new PUNCH EP! Don't miss out on either!

I updated the contact page with my new mailing address.

Updated 8/1/2011
Hey all - the new GET DESTROYED EP will be available through EBULLITION on August 1st - limited copies are available so get to it!

Soon after we will have the GRAND INVINCIBLE Ep, the SPAZZ La Revancha LP reissue, plus a ton other releases so don't sleep!

I will be moving to Vermont in August so emails will be slow. Be sure to give me enough time to get back to you.

Updated 6/9/2011
And yet another 2 months go flew by, without an update no less!

So I will be flying in between NYC, Beijing and Tokyo for the summer, but there are a lot of new 625 releases that just came out, and a few more planned in the coming months. As usual, I've decreased my pressing runs so if you are interested in a release, be sure to get it quick!

Released last week were the INTERNAL ROT EP (brutal Australian grindcore), the GAZ-66 INTRUSION Ep ( punishing Ukrainian fastcore) and the long-awaited PSUDOKU LP (one-man space grind from Norway). I'm super stoked on all these releases - each band contributed ripping tracks. Also, check out the packaging on the PSUDOKU LP, full color inside and out - total nebula shattering space grind!

After that 625 has the new GET DESTROYED! Ep, a re-issue of SPAZZ's "La Revancha" LP plus a ton of other releases lined up! There's talk of doing the SCHOLASTIC DETH collection on vinyl, and some new shirt designs as well. So as always, dont sleep!

In other news, I will be moving to Vermont in August, so be aware that the 625 address will change at that time.

Updated 3/30/2011
It's been a while since the last update so let me give you the short story:

- I moved to NYC in January, starting interviewing for academic jobs, and landing a tenure-track position up in Vermont. So I spent most of January, February and March dealing with job market stuff. I did manage to get the SPAZZ LP out and now have a ton of stuff at the pressing plant (see below). Anyway, this means I will be moving to Vermont in summer.

- I was in Tokyo for a 10 day research trip when the earthquake/tsunami hit the Tohoku region. Everyone that I know is safe and OK, but this was a major disaster, and as daily news comes out about rising death tolls, increasing radiation levels at the Fukushima plant, economic ramifications, etc we are still unable to really fathom the extent of the devastation. I extended my trip to be with friends there and felt very ambivalent about having to return to my teaching duties back in NYC. So I apologize for slow email replies in this past month.

- More directly related to 625 - the SPAZZ Crush Kill Destroy LP sold out, so we are repressing a small amount on new colored vinyl. Be sure to keep your eyes peeled for that. I listed the specific color vinyl information on the Discography III page.

Also, PRANK and 625 are doing another run of the repress of IRON LUNG's debut LP. The first 1000 sold out so another 500 with different cover design (altered the metallic ink on the cover) will be available soon.

- At the plant now is both the PSUDOKU LP and the GAZ-66 INTRUSION EP. The PSUDOKU LP is just insane psycho-space-grind that has to be heard to be understood. Plus this is the most elaborately packaged release 625 has ever done. Full color insert, cover and labels, and integrated design, with a sticker to boot. GAZ-66 INTRUSION is a blistering Ukranian power-violence unit - their debut release! Small numbers are being pressed so dont sleep on tracking these down. Lastly, 625 is working with DISCOS HUELGA to get the PUNCH LPs back into print. We are hoping for a new release coming up later this year as well!

- After this 625 has the INTERNAL ROT EP (Australian grindcore not unlike EXCRUCIATING TERROR), a brand new pressing of SPAZZ's 2nd LP "La Revancha", and a ton of other things. Plus we will have some new t-shirt designs coming up too!

- So I will be traveling between NYC, Beijing, Tokyo and Vermont over the next few months - if you send me an email, please be patient and I will get back to you as soon as I can. In the meantime, track down these new releases as they will run out soon!

Updated 1/20/2011
Hey all - so lots of shit going on here at 625. After some treacherous travels over the past few months, I am finally back in NYC and finishing up my PhD. 625 ended the year with a lot of new releases, including the SFN EP, an IRON LUNG LP repress, the new PUNCH LP, and of courseThis also means that we are getting to work on the PSUDOKU LP (imagine PARLIAMENTARISK SODOMI on acid), the GAZ-66 EP (blistering fastcore), a new GET DESTROYED EP(!!!) and more SPAZZ reissues. Lots of stuff so be sure to sign up for email updates (above).

Updated 11/25/10
So lots of releases coming out as of late! Not only do we have the pulverizing SUFFERING MIND LP, a color vinyl repress of IRON LUNG's Debut LP, and represses of the PUNCH LP, but this week the first of the SPAZZ represses is out now - a re-release of the 1998 CRUSH KILL DESTROY LP. All of these releases are small in quantity, so be sure to pick these up! Check out the ORDERING page for details!

Next up we have the debut LP of the one-man space-progressive-grind unit PSUDOKU, an EP from the Ukraine's ballistic fastcore ensemble GAZ-66 INTRUSION, an EP from Australian grinders INTERNAL ROT and more SPAZZ LP represses.For up-to-date information, be sure to sign up to the 625 email list (above).

Updated 10/27/10
So following quickly behind the SUFFERING MIND LP that just came out a few weeks ago (and is selling fast!), is the repress of IRON LUNG's first LP (co-released with PRANK). A little over 700 copies of this repress, but this time split between yellow and red vinyl. For those of you who have been requesting the vinyl version of this masterpiece, now is your chance!

In other news, tests for the repress of SPAZZ's lp CRUSH KILL DESTROY have shipped, and once we OK those, it will be in press! We are hoping for a mid-November release date on that. Keep checking back for updates or sign up for my email updates (above)

Updated 10/5/10
The SUFFERING MIND LP is at EBULLITION now! Total head-crushing Poland grindcore - the fiends for the blast will surely love this one. Limited quantities so act fast!

After that we have more SPAZZ reissues, plus an LP from the space-grind unit PSUDOKU as well as the debut EP of skull-crushers INTERNAL ROT from Australia. You sleep - you miss.

Updated 4/14/10
Hey all - two new released, the SOCIETY OF FRIENDS Discography CD and the QUATTRO STAGIONI LP are in limited quantities at EBULLITION now! Be sure to pick those up while you can. After that, we have the debut EP from Bay Area blast unit FLAT OUT, the debut LP from Poland's grinders SUFFERING MIND and a tour EP from the US's SxFxN. Don't sleep!

Also the last of my record collection is going up now via a friend on eBay. CLICK HERE to check out the listings. Lots of Japanese, European and fastcore records going up in the next few weeks.

Updated March - HISTORY LESSON
So recently so new things have gone up on the internet that I thought I would pass on to people. One is about my personal history of playing music, the other is a "where are there now" piece.

GRAND INVINCIBLE
So as many of you know SPAZZ was influenced by the underground hip-hop scene of the late 1980s and 1990s. Apart from jamming in FUNERAL SHOCK, Dan (aka, Kungfu Dan, aka DJ EONS) has gone on to DJ and produce a few hip hop groups, the most recent being his best. They are called GRAND INVINCIBLE and their 2nd Full Length drops this month. Here are some videos so you get the idea of their style (throw back to early 90s NYC) and their spirit (DIY).

Check it out at:
GI Official

GI Gig Flyer

DIY Limited Release

BACKSLIDE 1987-1988
So before I played in PLUTOCRACY I played in this crust/grind called BACKSLIDE circa 1987 in California. This was right when DEVIATED INSTINCT and other bands were starting to release their first records and we were influenced by a whole tape trading network that existed then. Back then one listened to HELLBASTARD and RIPCORD and ANITSECT and HERESY and THE STUPIDS - there were no stupid distinctions and divisions as there are now. It was all DIY hardcore/punk, whether fast, metallic or crusty.. So anyway, John our singer put up a rehearsal tape, pictures and fliers from this band, stuff I havent seen for over 23 years. It is kinda mind blowing, and I have to warn you, it does not stand the test of time. But I thought I would share it.The "15 year old drummer" would be me.

Check it out at: BACKSLIDE LINK

Updated 10/14/09
A new batch of my personal record collection is going up on ebay for the rest of October. If you are a collector you might be interested in some of the titles. Check out the on-going post at: [ CLICK HERE ] for seller: "MOSH_OF_ARSE_625" - lots of rare records, shirts, etc~Right now there is a LOT OF JAPANESE stuff posted! Check it out!

Updated 1/16/09
I have friend out on the East Coast is also now selling my old personal record and t-shirt collection. This includes tons of Japanese HC, grind, crust, 80s hardcore, etc. This will be a steady thing as I just sent him the last remnants of my record collection, so be sure to check back regularly for new postings. CLICK HERE to check out the listings.

And don't forget, there is also LIGAMENT who has both personal collectibles and 625 titles up on eBay as well. CLICK HERE to do a search.

Updated 1/18/08
Ligament has started making some super cheap grab bags of 625 stuff on eBay, like 5 - 7"EPs for $6.99, etc. Check out that by clicking: HERE There will be more of those to come!

Updated 8/11/05
pistolswing took some photos from the second night of the Barbaric Fastcore Detonation festival, here is a link to that page. Check it out HERE

Updated 7/12/05
I keep on forgetting to mention it, but if anyone in California is looking for a reasonably priced, quick, yet good studio to record at, Craig (WHN) is running a studio called the Dutch Oven. So far bands like WHN, SCHOLASTIC DETH, HIT ME BACK, HOSTILE TAKEOVER, THIS IS MY FIRST, OUR TURN, etc have recorded there. More info at: DUTCH OVEN. Radical!

Updateded 9/2/04
So if you check out the seller LIGAMENT's list on ebay, you will notice we have started putting up various sale items up....I have done this not only due to the quanitity of titles I had at my house before the move, but also to rationalize the idea of utilizing an internet auction site in the first place. Lost story short, hopefully some of ya can grab titles that you missed early at WAY below my cost......

Update: 06/26/04
So about my record collection being sold.....so far I have passed off to my friend Jimi about 3000-4000 pieces from the collection, and I have so much more to give him which means this sale is gonna take probably 2-3 years to complete! Its fucking nuts, way too much stuff, and alot of it is painful to see go. Right now he is slowly going through the EPs, he hasnt even started posting LPs, CDs or shirts (yes, shirts as well). Also, I gave him a bunch of in print 625 titles, so for those of you who have had a hard time finding new titles at mailorders or distros, now's your chance to.

I still feel icky about doing all of this on eBay....for the people who know me, I have spent years railing against eBay, whether in lyrics (scholastic deth, etc) or just in daily conversations. I was (and am) really pissed that the process of going to used record stores/trading with people internationally was killed by a large corporate auction site. The manner in which one can increase the price on titles has now become infamous (people spending $400-$500 for KBD eps, etc), its just totally absurd. On the flip side though, I spent about two years going to shows with all these records, and although I was able to get rid of a lot of stuff (for cheap prices I might add) I didnt even make a dent in the collection. Towards the end I was burning out on bringing 1000 pieces of vinyl to Gilman street every weekend....and also perplexed that people didnt't really know some of the hard to find titles that I had for sale (no one buying titles from HHH, ASTA KASK, DON DON, etc). So with two months left before I move everything 4000 miles to NYC, I had to figure out a plan B. This is where Jimi came in to help out.

Now although he has only been posting my stuff for the past month (before that he was doing Jeff Bale's collection), the difference between prices (and what I had thought things were worth) has really blown my mind. I had a WIDE AWAKE live (not a bootleg) ep up there and it went for $3, while the first SCHOLASTIC DETH ep was bid up to $15! What the hell? People, relax, chill out.....just think....I probably have a ton of those SCHOLASTIC EPs, so just sit back and chill. The other thing that surprised me was that the first Barbaric Thrash comp went for $25......my only guess is that it's because it has Melt Banana on it or something? But again.....I had a few of those, so just relax, don't artificially drive up the prices. Right now I have asked Jimi to make a bunch of stuff "buy it now" just so people dont get all stupid and start bidding on titles that are available everywhere.

So long story short....I wish I could have gotten rid of all this without eBay, but it has so infiltrated the way people buy used punk records it appeared as the only solution. Cop out? For sure, Im the first to admit it. I can't stand the thought that these records that have been such a huge part of my life are now giving money to some crappy internet company like eBay. But my options were: sell to a huge non-punk store in SF like Amoeba records (who don't know anything about the records I have) who would have ripped me off blind, or sell it in a lot to someone, who of course would turn around and put things up individually on eBay. Infact this has already happened, people who have been at Gilman and bought my stuff at super cheap prices have turned around and posted it on eBay a week later. LAME! So long story short, this sucks. Not only am I watching my collection of 17 years dissappear, but its through a process that I detest.