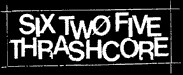 Upcoming Releases on 625

Out Friggin Soon:

SPAZZ - Dwarf Jester Rising LP (Reissue!)
The final installment of SPAZZ LP re-presses. This was the debut LP from SPAZZ, originally released on Selfless Records in 1994. As with all these re-releases, they are mastered direct from the original master, with packaging consisting of silk-screened covers and poster inserts. Expected release date, late spring 2011.

Other things in the works by INTERNAL ROT, ROSKOPP, GET DESTROYED!, SCHOLASTIC DETH, etc.....don't sleep!